WELCOME

TO THE

CYBER RUG CENTER
TRY ORIENTAL RUGS ON APPROVAL TODAY 1-800-686-7030
10% DISCOUNT FOR PAYMENT BY CHECK
Return to main Art Deco rug directory
Art Deco Rugs Room size Art Deco rugs small sizes Art Deco Rugs rounds and shapes
This is a compellation of tags and stamps found on Art Deco rugs.
Walter Nichols' Tag for Nichols Chinese Rugs.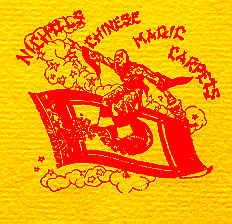 Below is an original Nichols silk tag. "Nichols Chinese Magic Carpets"
A rug stamped with Nichols name. If the rug is large enough it reads "MADE IN CHINA BY NICHOLS"
The stamp is made along the fringe.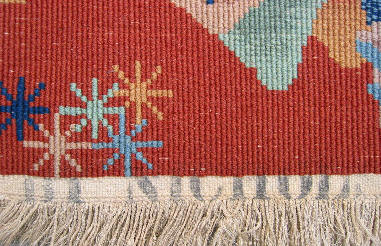 If you know how to determine the spin of the fibers on your rugs, have a look with a high power magnifier. The majority of Chinese rugs have a Z spin and S ply. So far all signed Nichols rugs but one, have the opposite spin and ply. Of course, since he sold wool to other factories, all we can say is that it is more likely to be one of his rugs if the fibers have an S spin and Z ply. The one rug that did not conform to the normal construction, also had a stamp that was not the normal Nichols stamp I usually see. Rather than discovering a fake, I suspect that in times of great demand, Nichols "farmed production out" to other factories. Something that all factories did, and something that Nichols would never admit to.
This is the label used by the Fette-Li company. The rug is numbered and lists the style number.
The photo below shows the Fette Li tag with sample colors found underneath.
Tags were often removed to get to the sample colors.
Art Deco Rugs Room size Art Deco rugs small sizes Art Deco Rugs rounds and shapes