Antique English needlework #5993
WELCOME

TO THE

CYBER RUG CENTER
TRY ORIENTAL RUGS ON APPROVAL TODAY 1-800-686-7030
10% DISCOUNT FOR PAYMENT BY CHECK
| | | | |
| --- | --- | --- | --- |
| Item # | SIZE ft.& in. | DESCRIPTION, APPROX. AGE | PRICE |
| #5993 | 15"x18" | 18thC English needlework picture in a pastoral scene, hand woven wool and silk, embellished with paint, England, ca.1795, This young gentleman in his typical late 18thC dress, can certainly be none other than "The Shepherd of Salisbury Plain", especially since an image of Salisbury Cathedral can be seen in the background, the frame is not original to the piece, but is an expensive bird's-eye maple with reverse painted glass | $1200.00 |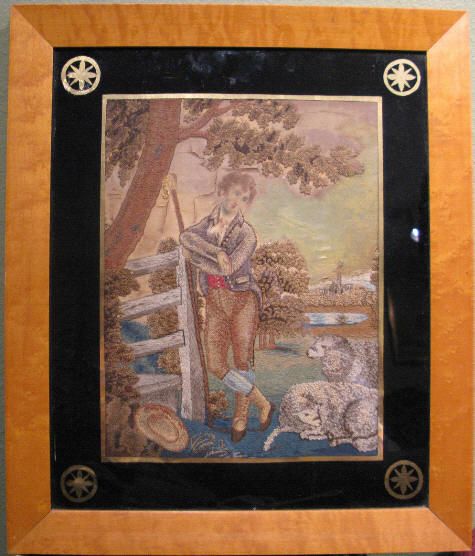 This type of art work was probably painted or printed by an unknown artist on a silk fabric, and then peddled to
English school girls to embellish it with needlework. Great care would have been taken to produce a work that
would show the girls talent with a needle for any potential suitor or potential mother-in-law. The work on this picture
is incredibly detailed. The Shepherd's short waistcoat and form fitting knee length breeches were a staple of men's
dress from about 1770-1810. Buttons, seams, and subtle shading of the suit ad to the lifelike rendering of this
girl's work. Her choice of "The Shepherd of Salisbury Plain" would certainly have shown her piety, as well as
humility and sensitivity to the cause of the poor. "The Cheap Repository for the Religious and Moral Tracts" produced
a hugely popular series of leaflets based on stories written by Hannah More, from 1795-1798. It is estimated that
millions were produced. One of the most popular of these tracts was the story of "The Shepherd of Salisbury Plain."
In the story, the Shepherd, David Saunders, clings to his faith of God and country, even in the face of poverty and
despair. This image would have been readily recognizable by most churchgoing people of the time. The earliest version
of the story was published by Hannah More in 1792 in her work, "Tales for the Common People - The Shepherd of
Salisbury Plain and Other Tales".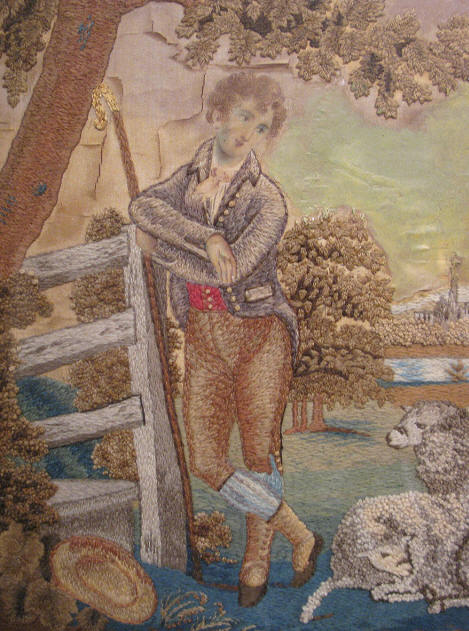 In case there is any doubt as to the identity of the shepherd, the artist has included an image of the
Salisbury Cathedral. It's single towering spire looming on the horizon. The Salisbury Cathedral has
the world's tallest existing Medieval spire, and the tallest church spire in all of England. The needlework
is so excellent, that we can tell the view of the Cathedral is from the Northeast. What makes the
Cathedral more interesting, is that the old bell tower is included.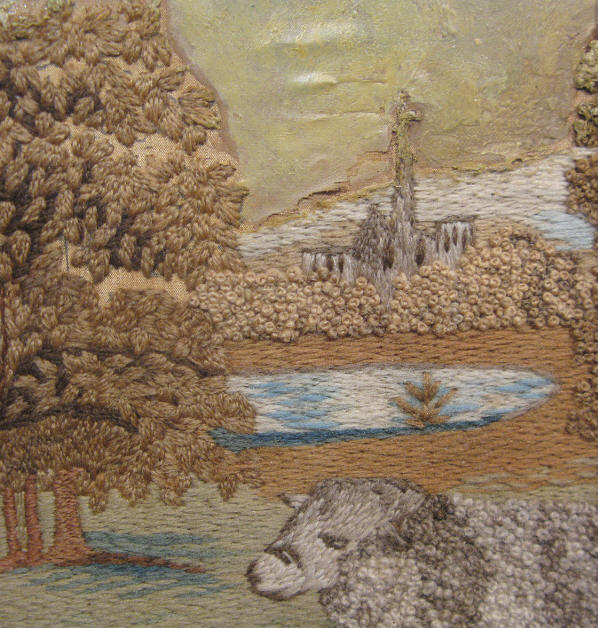 When viewed from the Northeast, the bell tower would be seen in the Northwest corner of the campus.
It was a detached structure. You can clearly see it as the building furthest on the right. However, only two
thirds of the original tower is represented. Originally, the square bottom base, shown here, was caped
by a pinnacle that reached over 300 feet into the air. So, is the pinnacle missing due to artistic interpretation,
or is there another possibility? Either way, this image of the Cathedral must be taken from an earlier artwork,
or from an earlier memory, since by 1795 the tower is supposed to have been gone. From 1788-1791
an extensive renovation of the Cathedral was preformed under the direction of James Wyatt (or "Wyatt
The Destroyer" if you were not a fan of his work.) During this renovation, the bell tower was demolished.
Was the demolition of the bell tower done over enough time that the silhouette of the building was
recognizable in this form? Do we have a rare rendering of the Salisbury Cathedral while under renovation?
More research may tell.
Many thanks to:
salisburymuseum.org.uk
history.org
wikipedia.org