Marisali Shirvan Prayer Rug #5780
WELCOME

TO THE

CYBER RUG CENTER
TRY ORIENTAL RUGS ON APPROVAL TODAY 1-800-686-7030
10% DISCOUNT FOR PAYMENT BY CHECK
| | | | |
| --- | --- | --- | --- |
| RUG# | SIZE ft.& in. | DESCRIPTION, APPROX. AGE | PRICE |
| #5780 | 3.5x5 | Black ground Marasali Shirvan prayer rug, hand knotted wool, Eastern Caucasus, ca.1880, size 3'5"x5', animal figures interspersed between colorful serrated botehs, the animal heads are visible on the dragon S border, the way the border is done creates white fylfot in the negative space, some professional restoration, but in general good condition, rare | $5600.00 |
Animals and fancy birds dispersed across the mihrab.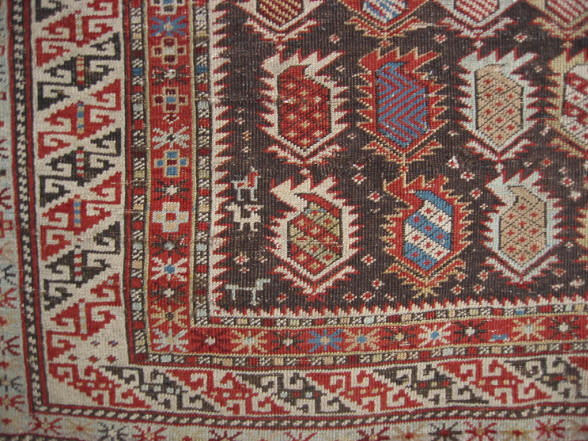 From a distance, the main border has a barber pole effect alternating red and black bands.
On closer inspection, the bands are created by two back to back red S dragon shapes,
Alternating with two back to back black S dragon shapes. The animal heads are nicely done.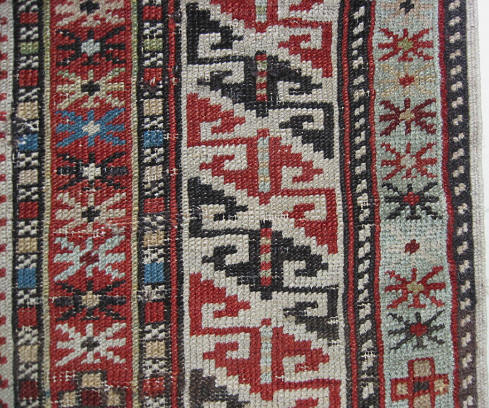 But the border also has another powerful symbol. If you stare at the negative white space long
enough, you will see the fylfot, ( swastika )