Navajo rug #6908
WELCOME

TO THE

CYBER RUG CENTER
TRY ORIENTAL RUGS ON APPROVAL TODAY 1-800-686-7030
10% DISCOUNT FOR PAYMENT BY CHECK
| | | | |
| --- | --- | --- | --- |
| RUG# | SIZE ft.& in. | DESCRIPTION, APPROX. AGE | PRICE US$ |
| #6908 | 33"x62" | Navajo rug, hand woven wool, SW United States, ca.1900, early experimentation in rug weaving, using an earlier banded blanket design, the wefts are thicker and heavier which is more appropriate for use on the floor, the wider central band bisects the rug, drawing the eye to the center of the weaving, but the design is not symmetrical, the serrate corners at the bottom are enclosed in a panel, and the corners at the top are left open to the white space, creating movement drawing the eye up and out, red, tan, black-brown on ivory, very good condition | $1200.00 |
Prominent lazy lines throughout.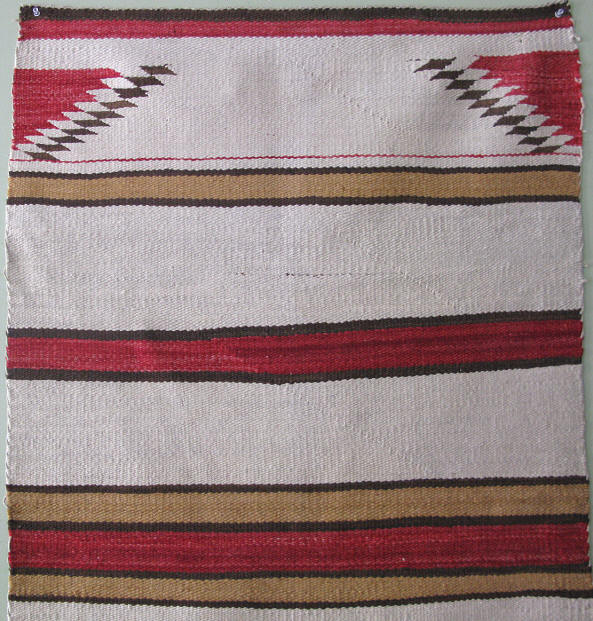 There is a black spirit line in the red corner.
The weaver has woven a spirit trail into the bottom corner. If any spirits were inadvertently
woven into the fabric, "the fabric of life", then the weaver leaves a spirit line for the energy
to have a path out. Many weaving cultures have similar superstitions, and actually, the tassels
themselves that appear in most Navajo weavings, can be viewed as sprit trails. You can see
the spirit line in the photo below. The contrasting black line in the red corner..
The trail begins within the body of the rug, and leads out to the edge.