Antique Peking rug #11462
WELCOME

TO THE

CYBER RUG CENTER
TRY ORIENTAL RUGS ON APPROVAL TODAY 1-800-686-7030
10% DISCOUNT FOR PAYMENT BY CHECK
| | | | |
| --- | --- | --- | --- |
| RUG # | SIZE ft&in | TYPE, APPROX. AGE | PRICE US$ |
| #11462 | 2.6x4.10 | Peking rug, hand knotted wool, China, 1st Qtr 20thC, medium blue with bamboo border, tan, beige, light rose, navy, a fan in the center is the emblem of the Chief god of the eight immortals 'Chung-Li Ch'uan', simple yet powerful imagery, near mint condition | $1200.00 |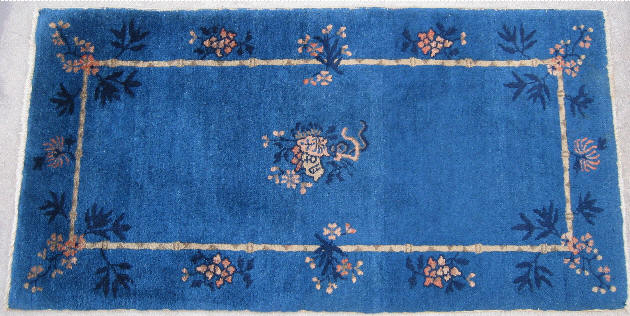 The fan in the center is the emblem of the Chief god of the eight immortals 'Chung-Li Ch'uan', by which it is said that he can
revive the souls of the dead by waiving the fan above them. Here we see the fan passing over, the symbols for old age and moon.
An allusion to the harvest moon, or the late stages of our life. The fan overcomes old age, and in a Taoist twist to the design,
the owner of the rug is not just wished a long life, but invokes the powers of the universe to grant it.